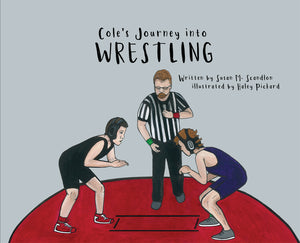 Check out the book trailer. . . bringing the story to life!
Happy Faces of Both Wrestlers and Non-Wrestlers
Wrestling Philosophy Interview
Nathan Tomasello's recommendation
Kids loving their new books!
Testimonials
"Cole's Journey into Wrestling is a great read for young wrestlers as well as their parents in explaining the ins and outs of the sport of wrestling. Reading this book brought back memories of when I started my career as a youth wrestler many years ago."

Jeff Jordan, 4x OHSAA State Champion, NCAA All-American at Univ. of Wisconsin, 2x National Wrestling Coaches Association Coach of the Year, National High School Coach of the Year, Ohio High School Wrestling Hall of Fame, Ohio National Wrestling Hall of Fame, National Wrestling Hall of Fame Lifetime Service Award Recipient , Owner of Jeff Jordan's State Champ Camp, Retired coach from Graham High School (OH) where he lead the team to be 19x State Wrestling Champions
"This book is great for learning about wrestling for someone who has no knowledge of the sport. It goes over the rules and some points of wrestling that can be confusing for first timers. A good book to get kids interested in the sport of wrestling."

Brad Squire, 4x OHSAA State placer, 2x OHSAA State Champion, Ironman runner up, Ironman Champion, Fargo All American, Ohio University wrestler
"This is a great book! I encourage everyone to read it. The story line keeps you engaged and is a lot of fun to read. As a wrestling coach, I love how the sport of wrestling is being promoted. This book will be great for all wrestlers to read along with anyone interested in learning about the sport of wrestling!"

Clay Wenger, Wadsworth High School (OH) Head Wrestling Coach, 2x High School All American, Kent State wrestler
"Susan Scandlon's passion for children and wrestling are blended together in this wonderful children's book, "Cole's Journey into Wrestling." The story is very thoughtful and touching as you follow the progression of the young and impressionable boy as he learns the ropes of the sport he is growing to love and appreciate. As someone who coaches youth and high school sports, the story caught my attention immediately, and it was a great reminder of why we put all the hours into coaching and the impact we can have on the development of young minds. It is such a special bond and experience, and you will see that love of sport in Cole! This is a great story to share with your young athlete and child."

John Carmigiano, Cloverleaf High School (OH) English, Theatre, Speech, Debate, & Journalism Teacher, Drama Club & Student Leadership Team Advisor, CHS Fall Play Director, Head Varsity Girls' Basketball and Softball Coach, DII Coach of the Year, Northeast Ohio Inland District Coach of the Year, Medina County Gazette Winter Coach of the Year
"I truly enjoyed your book. I sat down to start it, and read it cover to cover. I think you did a great job describing the technical components of wrestling, along with the life lessons involved in being a great wrestler. Through Cole's story, you showed the importance of hard work and believing in yourself, along with the value in both winning and losing. This was a great family friendly story that I know will inspire kids to not only wrestle, but be successful in life."

Ray Anthony, OHSAA State wrestling Rules Interpreter
"This book was great! I loved the accurate depiction of how everything happens. There is usually a tie to wresting in the family as this book portrays. The sport of wrestling is difficult and takes dedication; it teaches how to fail and win with pride. This book is a very good example of what is involved."

Corey Kline, OHSAA 1x State runner up, 2x State Champion, 4x NCAA All-American from D2 (Ashland Univ.), 1x NCAA National Champion (Ashland Univ.)
"Cole's Journey into Wrestling is a fabulous children's book that captures a novice wrestler and parent's introduction to the great sport of wrestling. Reading this book is a sure way to teach youth wrestlers, both boys and girls, the terminology of wrestling and the culture it develops. I highly recommend this book for all beginning wrestlers, but also to any wrestling family who will enjoy reminiscing and recalling these vivid memories."

John Gramuglia, Retired coach from Wadsworth High School (OH) where he lead the team to be 1x State Wrestling Champions, 2x State Dual Champions, 25 straight Suburban League Champions, 17x Sectional Championships, 4x District Champions, 5x Greater Cleveland Wrestling Coaches and Officials Coach of the Year, National Wrestling Hall of Fame, Medina County Sports Hall of Fame, Wadsworth Sports Hall of Fame, Trinity Sports Hall of Fame, Ohio High School Coaches Hall of Fame, 5x Medina County Gazette Winter Coach of the Year, John Carroll University Schweickert Award winner
"Cole's Journey into Wrestling is a genuine interaction about the journey into and starting out with the sport of wrestling. It encompasses the initial interest into the sport, as there are many ways of kids finding out about the sport. It shares the insights into the first interactions a new wrestler will experience as they step foot onto the mat for the first time. Wrestling is never a sport you want to force upon a kid, and Cole's Journey into Wrestling definitely shows what can happen if a kid makes the choice to try the sport out. If your child is interested in the sport of wrestling and hasn't had the chance to try it out, this book is an amazing introduction to wrestling and shows all aspects that go into the sport. It is important to know the hard work and dedication that goes into the sport, and "Cole's Journey" highlights this throughout the entirety of the book. Wrestling is a sport that teaches athletes many life lessons. Cole definitely shows what the process looks like to get started in the sport and the hard work it takes to become elite in the sport."

Nick Tavanello, 3x OHSAA State Champion, OHSAA 3rd place as a freshman, 2 year starter for Ohio State University, 2x NCAA qualifier, starting heavyweight for OSU's NCAA National Championship team, and first generation wrestler.
About Us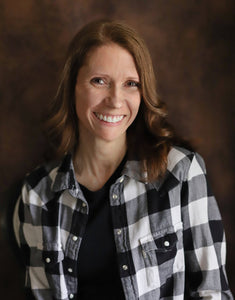 Meet Ms. Sue!
Susan Scandlon (known to most people as Ms. Sue) has always had a love for writing. She thought it was just a dream to publish a book on her own. Encouragement from her husband, Bob, finally got through to her.
She began to write down years of stored ideas for her first book, Cole's Journey into Wrestling. Ms. Sue was introduced to the sport of wrestling when her son joined a local youth wrestling team in 2011.
She quickly developed a love for wrestling and all that it teaches athletes. She can be found volunteering at church, wrestling tournaments, and school throughout the year. When the wrestling season starts, she will be found near the mat, helping with stats, and encouraging her son and his teammates.
Meet Haley!
Haley Pickard is an artist and children's book illustrator from Wadsworth, Ohio. When she's not painting, Haley enjoys traveling to exotic places with her fiancé and co-pilot, Josh. She earned her degree in Digital Video and Media Technology.
She founded Haley Pickard Studio in 2019. Haley specializes in photography and hand-drawn illustration. Her illustrations in this book are hand painted to portray the simple yet colorful look that brings Cole's journey to life.